Operations & Dispatch
There are many moving parts to support an aircraft operation and manage a flight department. Portside provides tools for quick and accurate decision-making to keep departures on time and customers happy.
GET A DEMO
Advanced Aviation Technology Solutions
For Business & Government Aviation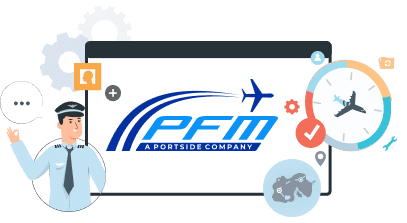 PFM Product Suite
The PFM Scheduling System is the premier flight operations management system for corporate, private and managed flight departments.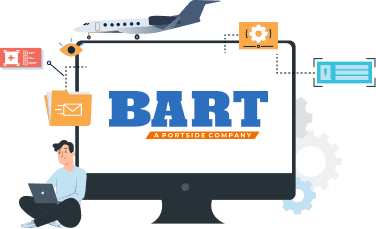 BART Product Suite
The BART System is the most widely used web-based Private Aviation Management System in the world for charter and corporate operators.
Want to consolidate critical information into one meaningful interface?
Use the Portside
Owner Portal
to get a complete summary view of your operation in one place, including aircraft schedules, maintenance events, and crew activities. Integration with your flight dispatch software paired with our robust financial reporting capabilities, allows the operation and dispatch team elevates their ability to manage the flight operation.
Need to visualize the health of your operation with interactive dashboards?
Portside comes with a large library of dashboards in the
Owner Portal
that are used by operators and flight departments all over the world. Visually stunning, easy to understand, and fed by real-time data, these dashboards can be configured to fit the needs of every operation, from a small flight department to a large offshore oil & gas helicopter fleet operator.
Need quality data for effective flight operations management decision making?
Our Portside Platform integrates directly into your scheduling, accounting, expense management and maintenance tracking systems so that all of your reporting - operational, financial and tax - can live under one roof. Feel confident about data integrity by drilling into the details and exporting reports into PDF or Excel formats and utilize our out of the box tools for effective decision making.
Optimize the aircraft usage and crew assignment process!
The
Portside Optimizer
can help you save costs by ensuring your schedule is efficiently using your aircraft assets and crew. Its logic will take into account aircraft and crew availability, maintenance, training, relocation times and costs, as well as consider the potential risk to the schedule.
Want to upgrade your flight dispatch software?
Portside offers various choices for
flight operations management solutions
. Share your requirements and we will find the option that best fits your flight department's need. As a part of the Portside Platform, these solutions are fully integrated with Portside's other products.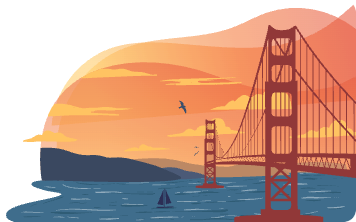 Portside FOR FINANCE
Contact us to learn more or schedule a demo
We work with operators of every size around the world, and would be happy to learn more about your operation & discuss how we could help.
Contact Us
Some of Our Customers
Portside supports customers operating 10,000+ aircraft in 30+ countries.